DECEMBER NEWSLETTER

WOW, can you believe it is December?

It has been such a bizarre year for many of us, pets included!

We want to take this opportunity to thank all of our wonderful clients for "hanging in there" when we had to make so many sudden changes to the way we ran our clinic earlier in the year. We're not completely back to normal yet, but we hope to be soon!

More recently, we also want to thank you for your patience with our changeover to our new computer system. It has been an extraordinarily steep learning curve for all of us, but we are learning so quickly and are getting faster (and less frustrated!) every day.

Have a wonderful Festive Season, enjoy your loved ones and fur families, and we will see you all in 2021!

PLEASE NOTE - We are transitioning to using email for our reminders, invoices and receipts in 2021 as part of our attempts to be more environmentally friendly! Please make sure we have your current email address either via phone on 9841 5422, email on admin@miramarvet.com.au or by clicking the link below. Thank you for your support!

Email us now!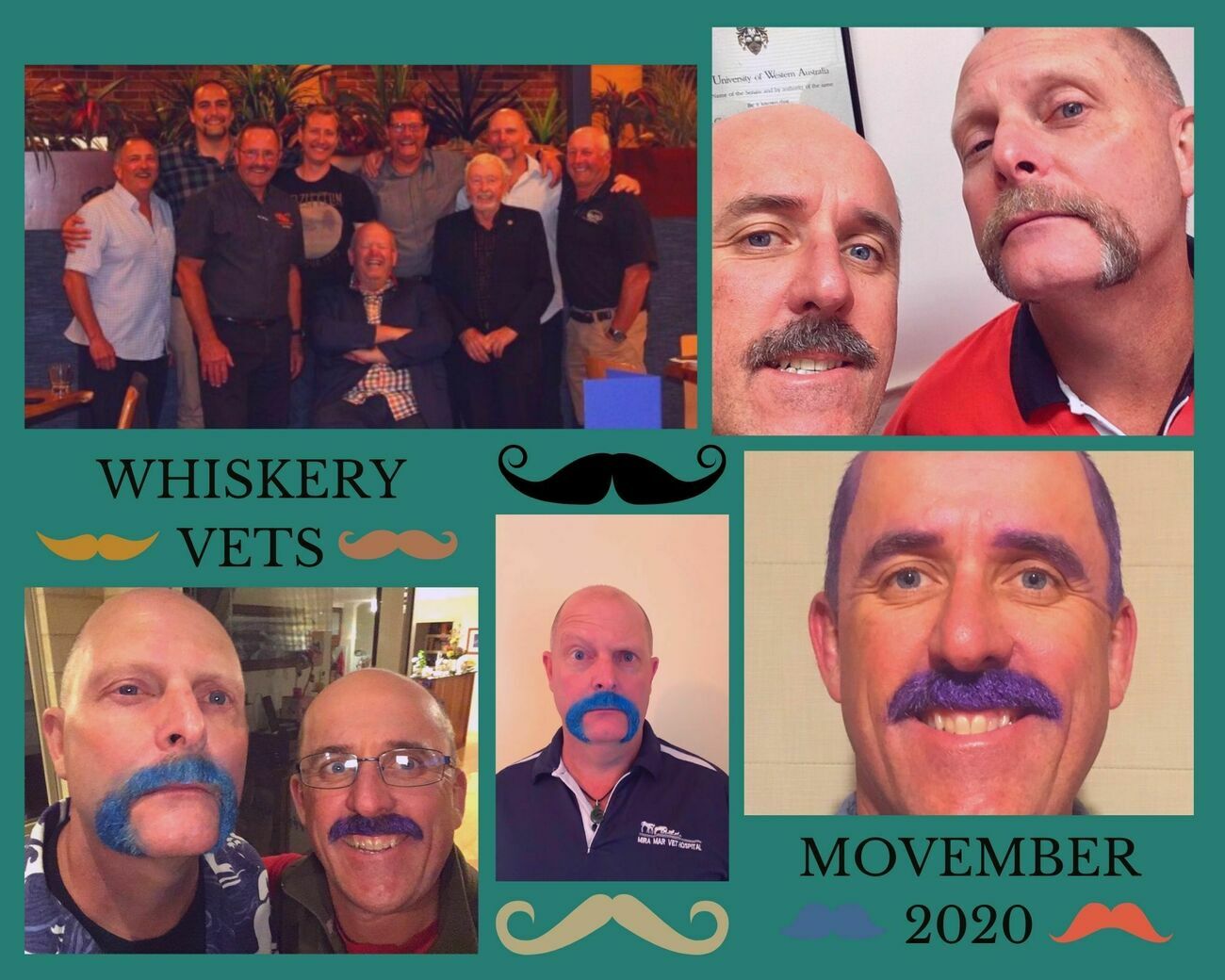 WHISKERY VETS

Drs Jim, Dave & Farand have been getting all hairy for a good cause!

Thank you to everyone who supported our crazy vets during Movember 2020!
Thankfully, they are all looking much more normal (and less frightening!), now that the month of hairiness is over.

Our highlight was the final week of November, when Dr Dave declared if the team raised more than $6500, he would colour his moustache BLUE for the 30th of November! Sure enough, the tally was reached, and Jim and Dave both sported some pretty special facial hair for the day!

The WHISKERY VETS, made up of Jim, Dave, Farand and 5 other veterinarians from the Great Southern region, raised over $7000 towards research and awareness about men's health. WELL DONE everyone!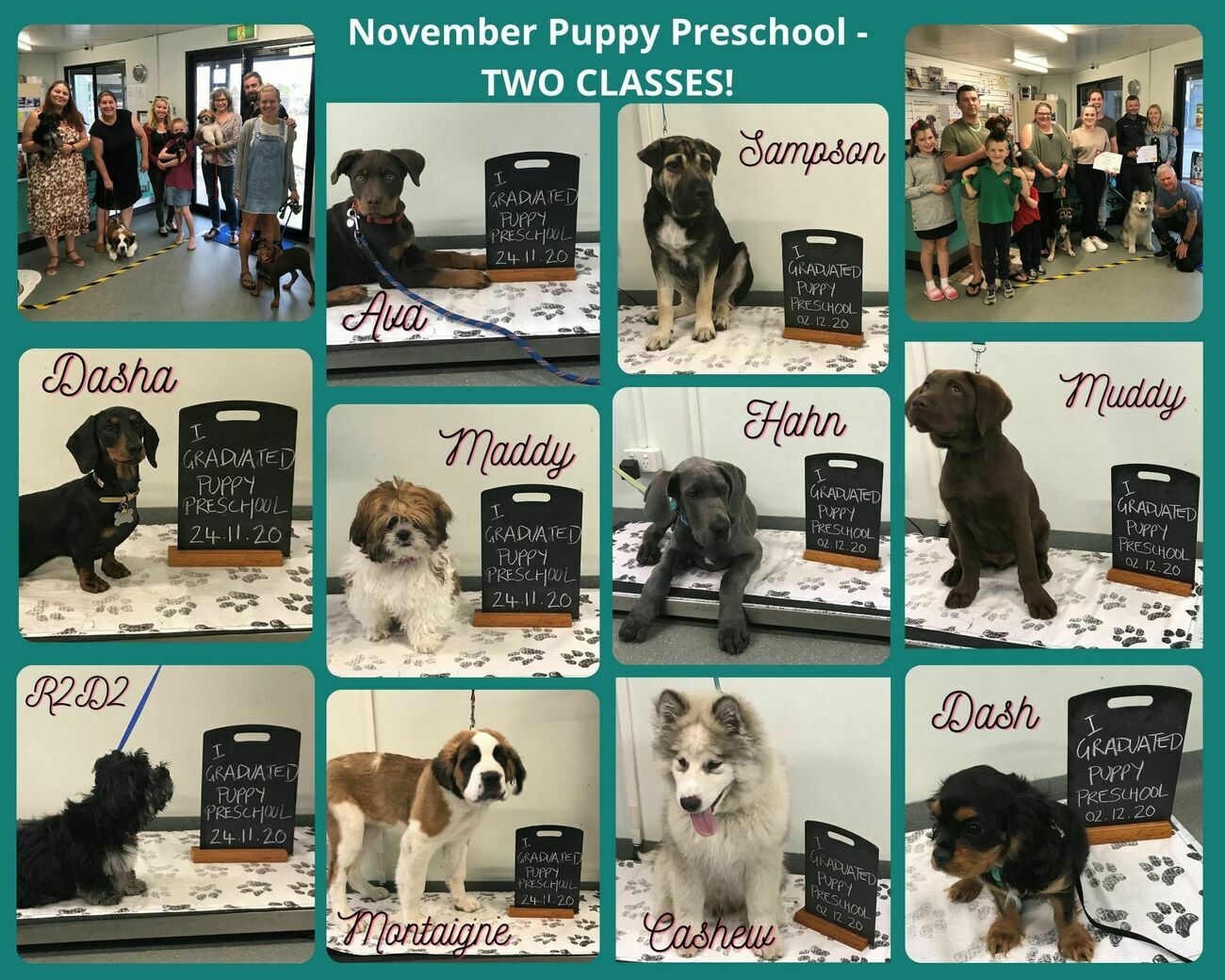 November Puppy Preschool - TWO CLASSES!

November saw the graduation of TWO CLASSES of Puppy Preschool cuties, and aren't they just adorable?

It was definitely the case of all creatures great and small, with St Bernards and Great Danes playing with Daschunds and Spaniels!

Congratulations to Dasha, R2D2, Ava, Maddy, Montaigne and Lilah from the first class, and to Hahn, Dash, Sampson, Cashew, Muddy and Joey from the second class.

If your new puppy is ready for some socialisation and fun, please find out about our next class by calling the clinic on 98415422.

CALL NOW
Keeping your pet busy on Christmas Day

Christmas Day can be a pretty hectic day for most of us, with all of the meal preparations, family visits, last-minute gift-wrapping and the clean-up - but while we're busy celebrating, our pets may be left just twiddling their paws. Here are a few ideas to keep your pet safely occupied with some festive fun!

Give your pet some early morning exercise to help them relax for the rest of the day. For dogs, this normally involves a good walk or play at the park, where they can wish their canine chums a Merry Christmas. For cats, this could include a game with their favourite toy, such as a ball made of scrunched paper, a cat "fishing" toy, or a laser light pointer for pouncing fun.


If you're unwrapping presents early, cats love to play with rustling wrapping paper or have a peek-a-boo game using leftover cardboard boxes. Dogs may just enjoy settling down for some satisfying cardboard box disassembling! Just make sure there are no string, metal or plastic decorations that your pet could accidentally swallow – these can cause dangerous gut obstructions.


If your pet will be alone for several hours, prepare some fun food treats to keep them occupied. Both dogs and cats will love their favourite treats to be scattered around the house or garden, so they can go on a treasure hunt. If you're really prepared, you can organise for Santa to bring your cat or dog a fun puzzle feeder, ready to fill with your pet's favourite treats. Just make sure your pet's toy has no small, loose parts that could pose a choking risk, and supervise your pet during their initial exploration of the toy.

With these tips, your pet is going to have the best Christmas ever! Especially since they're exempt from the clean-up duty.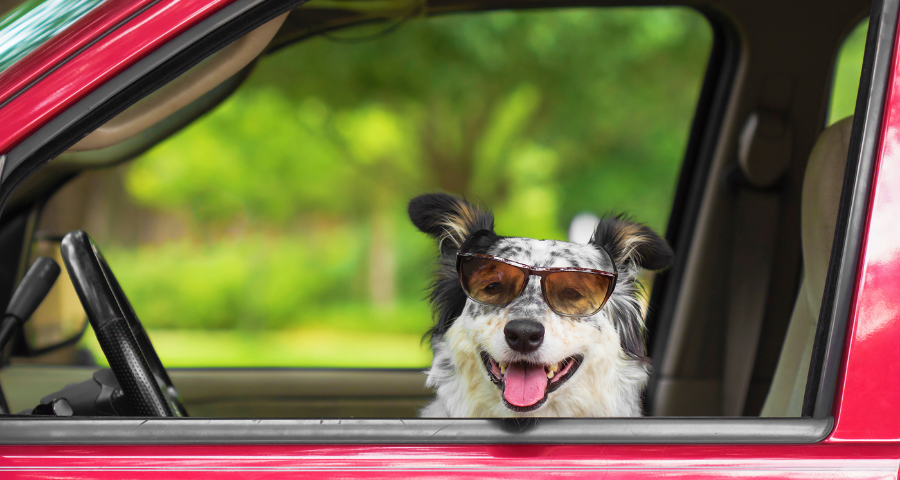 Low-stress car travel for your pet

Planning a Christmas road-trip with your pet? Don't stress! Check out these anxiety-reducing pet travel tips.

Safe travel

Ensure your pet is properly secured in the car. The safest option for dogs is usually restrained on the back seat using a safety-tested car harness and seatbelt attachment system.
For cats or smaller dogs, it's best to use a properly-secured travel crate. Ensure this is large enough for your pet to stand up and lie down in comfortably, and has good airflow to prevent overheating.

Pet comfort

Take dogs for walks before setting off, so they're more likely to rest comfortably on the journey.
Stop every two hours to offer your pet water and to take dogs for a toileting walk.
For long trips with cats, it's best to plan in advance for toileting stops at least every four hours. Choose somewhere that you can set up a litter tray for them in a safe, confined area.

Reducing anxiety

Mildly anxious pets often benefit from applying a calming pheromone spray on their travel bedding 15 minutes prior to setting off. Spray brands include Feliway for cats and Adaptil for dogs.
Two-to-five days prior to the journey, consider starting your dog or cat on Zylkene, a natural calming supplement.
For more anxious pets, we'd advise an appointment with us for a discussion about the safest short-term, anti-anxiety medication options which may be appropriate.

Car sickness

Avoid giving your pet large meals for several hours prior to travel.
If your pet gets travel-sick, phone us to ask about safe and effective prescription anti-nausea medications for the journey.

Lastly, ensure your pet's microchip registration details are up-to-date, and that they are wearing an ID tag or collar marked with your best contact number. Pets away from home can easily get disoriented and lost.

If you have any other questions regarding travelling with your pet, please phone our friendly team!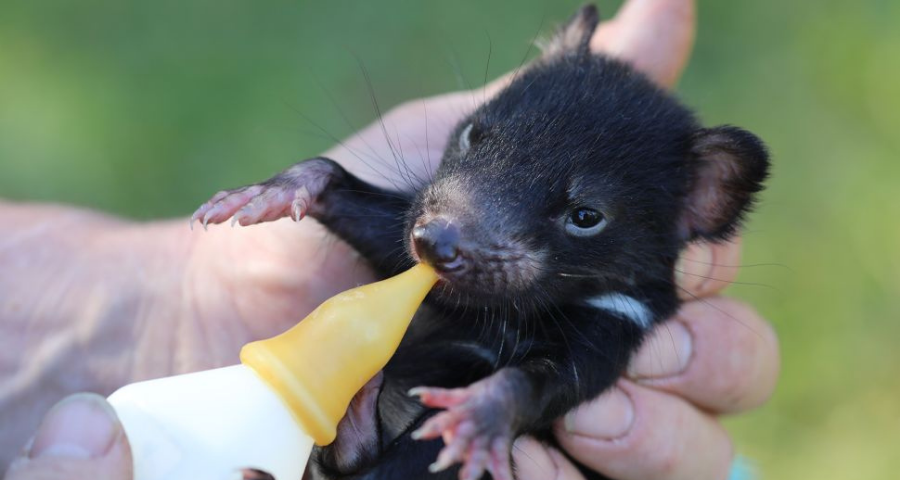 Animal News In Brief

Image source: Live Science

The devil is back!

It's been a while, 3,000 years to be exact, but the legendary Tasmanian devil has finally made its way back to wild mainland Australia. With the huge effort and support from non-profit conservationist groups Aussie Ark, Global Wildlife Conservation and WildArk, eleven Tasmanian devils have begun their journey to repopulate their new, yet familiar home. The conservationists aim to ensure eradication of the devil's cancerous disease found commonly across Tasmania, while also keeping the devils from their long-established predator, the dingo. With great vigilance upheld in the Barrington Tops National Park, mainlanders might once again be able to dance with Australia's favourite devil.

Read more about the Tasmanian devil's return to the mainland here.

-----

NSW apartments no longer parting people from their pets

We all know the joy and fulfilment that our pets give us - sometimes our pets are even our reason for getting up in the morning (and that's not just because they let us know that they're especially keen for an early breakfast). Though for many NSW apartment residents, who are all too familiar with pet applications, rejections, appeals and so on, the long and arduous campaign to keep their pets in apartments has finally met its sweet resolution. Thanks to the NSW Court of Appeal, no more shall the paw be turned away by a blanket ban at the hands of apartment owners or body-corps. As long as they are well-behaved and not affecting others, there is no longer a reason four-legged friends can't experience the high life of NSW apartment-living with their human partners in crime.

Read more about NSW's lifting of blanket bans on apartment pets here.

-----

A gift guide for goofy and adventurous gifters

Whether it's in your furry friend's stocking or under the tree, you can't go wrong with a tasty bag of treats - or even better yet, the crinkle of wrapping paper - but if you're feeling a little adventurous on the gift front, then we have a few ideas for you. TechRepublic have released their 'pet lovers' gift list and, though a little out-there, these latest tech inventions could be your best friend's next best friend. From litter box robots and pet selfie machines to air purifiers and pet travel mugs, you can explore all kinds of quirky pet-fun these holidays with these gift ideas. Make sure to check with us before purchasing to ensure your gift is perfectly safe for your home and your pet.

See the full gift guide here.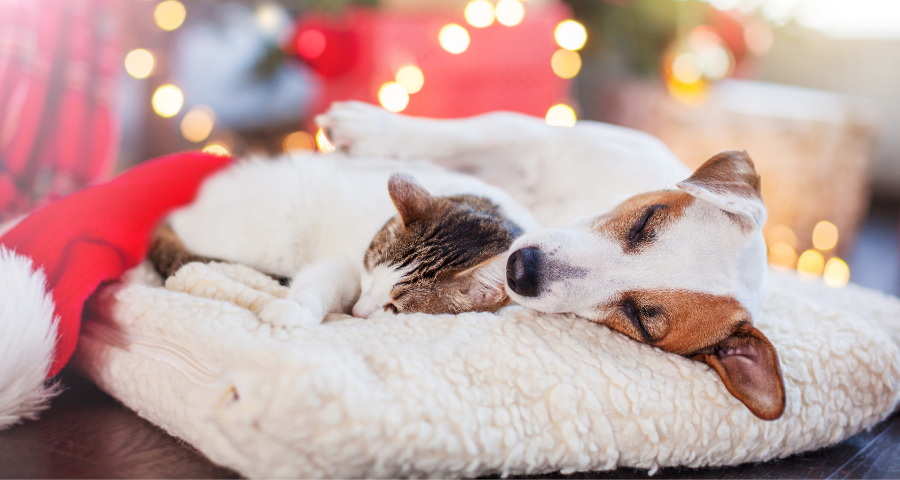 How to support a noise-phobic pet

If loud noises make your pet anxious, summer storms and New Year's Eve fireworks can unfortunately be a terrifying time.

For mild cases of noise phobia, it may be enough to "protect" your dog or cat from the noise by giving them a safe place to shelter. It's generally best to keep them indoors whenever possible during these times (preferably with a familiar human friend nearby), as many pets get injured or lost when they make panicked escape attempts.

During loud events, we suggest the following for any noise-phobic pet:

Close your blinds or curtains.
Try playing soft, soothing music or white noise to help mask outside sounds.
Create a safe hiding spot for your pet in a cupboard, behind a couch, or in their crate, with some blankets or a quilt for them to snuggle under.
Apply a calming pheromone spray to your pet's bedding. Spray brands include Feliway for cats and Adaptil for dogs.
Offer your pet some tasty chew treats or puzzle/food-based toys (e.g. a Kong filled with peanut butter), but don't force it if your pet is too nervous to eat.
Calmly comfort your pet if they come to you for reassurance. Never punish your pet for being afraid, destructive or for having toileting accidents during these times - punishing them will only worsen their fear.

If your pet still seems scared despite these supportive measures, or if they seem anxious about other things too, we advise consulting one of our vets for advice. Pets with moderate-to-severe noise phobia or anxiety benefit most from starting anti-anxiety medication and a program of behavioural modification to calm their excessive response to noise.

Ask one of our friendly vets if you have any further questions about noise phobia in your pet.
Pet-safe festive foods

Many of us want to involve our furry family member in Christmas celebrations - and festive meals are no exception! But do you know which foods are pet-safe and which can be dangerous? In the Christmas spirit, we've coded some common yuletide foods as green or red.

Green foods = safe
Unless your pet has food sensitivities/allergies, these foods are generally safe if given freshly cooked, in small quantities:

Turkey meat, particularly the white meat - and remember to remove the fatty skin.
Fish e.g. salmon.
Prawns (ensure the shell and gut are removed).
Vegetables, such as potato, pumpkin, sweet potato, carrots, peas.

Red foods = dangerous
These foods can be toxic or dangerous to pets!

Turkey stuffing - can contain onion and garlic (which are toxic to pets).
Ham - high-fat content (can trigger pancreatitis).
Smoked salmon - high salt content (can be harmful for pets with high blood pressure, heart disease, or kidney disease).
Christmas pudding or mince pies - contain sultanas/raisins (toxic).
Chocolate or cacao - contains theobromine (toxic).
Coffee beans - contain caffeine (toxic).
Foods sweetened with xylitol (toxic).
Grapes (toxic).
Cooked bones – often break into sharp splinters, which can cause mouth injuries, broken teeth or gut obstructions.
| | | |
| --- | --- | --- |
| | Dog-friendly Christmas cookies | |
| | | |
| | Provided no one in the household is allergic to peanuts, consider summoning your inner Masterchef to whip up these delicious dog-friendly cookies by "The Cookie Rookie", using your favourite Christmas-themed cookie cutters! | |
Method

Preheat oven to 175°C.

Combine flour, baking powder, and egg in a large bowl.
Add peanut butter, water and honey, and mix until dough becomes firm and sticky.
On a lightly-floured surface, roll the dough to ½ inch thick.
Cut out your cookies.
Bake for 20 minutes until golden.
When cooled, bestow your delicious gifts upon your dog (one or two per day!).
Ingredients

2.5 cups wholewheat flour
1 tsp baking powder
1 cup natural peanut butter
1 cup water
2 tbsp honey
1 egg
Can your dog join you for some summer beach fun?

For many of us, the summer holidays wouldn't feel complete without at least one trip to the beach. But can your dog join you for coastal fun? The answer is yes – with some planning:

Check online to ensure your beach of choice is dog-friendly. Dogs are prohibited on some beaches and no-one wants to waste Christmas-present money paying a council fine!
Do you have a breed of dog predisposed to heat stress, such as a thick-coated retriever or malamute, or a snub-nosed breed such as a french bulldog or pug? In these cases, on a hot day, it's safest to keep your pet indoors with a fan or air-conditioning, and not exercise them at the beach.
Before leading your pet onto the beach, check the temperature of the sand with your hand. If it's too hot for you to comfortably touch for more than ten seconds, it could burn your pet's feet.
Set up camp under a tree or a beach umbrella, so your dog can seek shade if they need it. Make sure you bring extra water and a portable drinking bowl to keep your pet hydrated.
If your dog has pink skin around their nose or eyes, protect them from sunburn by applying some pet-safe sunscreen to these areas, and ask your vet nurse about where to purchase some. Make sure to reapply sunscreen regularly as per the label instructions! For dogs with pink bellies, consider purchasing a sun-suit to protect this larger area of skin.
Unless your dog has excellent recall and will stick close to you, it's best to keep them secured on-leash to avoid them drinking seawater, eating beach debris or accidentally walking over oyster shells - all common reasons for a post-beach vet visit.

With these safety precautions, you and your dog can enjoy some summer sun, sand and surf together.
This email contains comments of a general nature only and is not intended to be a substitute for professional veterinary advice. It should not be relied on as the basis for whether you do or don't do anything.

All content © Pet Pack 2020
[Footer]